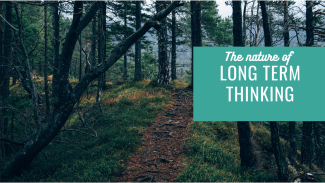 The Nature of Long Term Thinking
Recently I got to spend a morning with a new friend, Janine Scherline; she is the Director of Donor Engagement for Adirondack Foundation. We took a lovely hike along the Silver Lake Bog Trail while she filled me in on the foundation's unique value proposition. 
She made an analogy that really spells it all out: if the United Way is our region's checking account, Adirondack Foundation is its savings account. Just like in a family's finances, there will be urgent needs that must be addressed. Over the last several years that I've been involved with our United Way, I've seen them react to fires, floods, the opioid crisis, and most recently the pandemic. The thing I most appreciate about the organization is how it goes "looking for trouble", finding ways to immediately impact the lives of North Country residents for the better. Very often, the work they do to fix an immediate issue will have lasting impact; for example, supplying a person who is entering the manufacturing industry with a pair of steel toed boots. That $80 investment may be the difference between struggle and prosperity for a whole family.   
Adirondack Foundation addresses some of those pressing needs, and indeed partners with the United Way like it did most recently to help address hardships brought on by the pandemic. The foundation also looks through a longer lens, using their "Strong Community Framework" to make investments that will influence the region's trajectory. I so applaud the mission of creating a community that is viable for all residents and takes into account basic needs, education, economic vitality, environment and the arts. Janine and her colleagues have a refreshing optimism about what is possible for the future, especially when thoughtful community members band together.
After we parted ways, I wasn't ready to leave the woods quite yet. On a whim I turned onto Bonnieview Road and pulled in at the Cooper Kiln trailhead. I plodded through the quiet forest reflecting on the nature of long term thinking. I was on the phone with someone the other day who was pressing me for my best guess about where the markets will be in six months. When I wouldn't make a guess, I think he got the impression that I was sheepish about sharing my true feelings about what might be around the corner in case I'm wrong. I clarified: my deep conviction about markets in the short term is that they will be irrational and unpredictable. I don't spend time pondering it beyond that.
However, when you expand the timeline, it's a different equation. You can start thinking not only about what might happen in the future, but how we can interpret patterns from history to be prepared for what's next. To paraphrase Shakespeare, the past is prologue. Effective long term thinking, on any scale, comes from a careful consideration of the past. What challenges arose? What brought about success? 
In the context of markets, it's easy to get lost in the unknown. Which company is "the next Apple"? Which innovation or technology is going to shape the future? What will be worth more in 6 months, Bitcoin or Dogecoin? Without a crystal ball, we focus on what we can control: diversification, asset allocation and location, and a careful eye on costs. Strategies that have consistently had a positive effect on outcomes over the last century.  
When we think about planning for our lives, the starting place again is the past. Haven't we all faced unexpected expenses and opportunities throughout our lives? Whether it is a busted hot water heater, an invitation to go on a trip, a medical bill or a friend in need, we've all been there. We can't predict exactly what the next "surprise" will look like, but we can expect to be faced with many of them as we go about living our lives - long term thinking accounts for that with an emergency fund and savings. Likewise, it's super difficult in your 20s, 30s, 40s and possibly even your 50s to imagine what retirement will look like - but that won't stop it from happening. Long term thinking demands that we prepare for a future we can't imagine.
Adirondack Foundation and organizations like it have to employ the same flexible approach to future planning. They carefully study the past - what challenges has the area always faced? How have similar communities overcome these hurdles? Instead of trying to anticipate every twist and turn in the road, they keep their focus broad and hone in on core values. They use the phrase "give with us" not "give to us" because they are building a dedicated charitable endowment for our region to address today's needs as well as the unknown needs of tomorrow. That's why a key advantage of establishing a legacy gift with Adirondack Foundation, or making any kind of gift, is their ability to adapt the plan as situations change; for example, if the food shelf you were supporting has closed, they can find a similar agency to carry out the mission. It's an approach designed to stand the test of time.
As I wrapped up my walk, the sky began to change and it felt like it might rain. Although the forecast had said clear skies, I reached for the rain jacket I carry with me. Shortly afterwards, the sky did open up - with hail. I chuckled all the way back to my car, congratulating myself for being prepared for something I couldn't have expected!