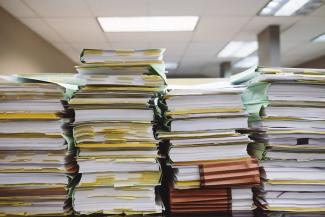 The Run-Down on Electronic Delivery
With tax season in full swing, we've all got a lot of forms and paperwork floating around. While we're in the thick of it, we want to share some information and best practices when it comes to documents.
If you have an account with National Financial Services, last year they implemented fees for certain types of physically mailed documents, including prospectuses and trade confirmations. We recommend setting those types of documents to e-delivery, both to reduce costs and environmental impact. You can choose e-delivey for those documents and still receive paper statements and tax forms in the mail.
We have heard lots of feedback over the years that the Wealthscape website provided by National Financial Services is hard to use, and we agree. Any documents that you would get through that website are also available through our own client portal. We would love to show you how it works! To book a tutotial session, please visit our online booking page.
Finally, we are often asked for best practices when it comes to document retention. 
Tax returns and supporting documentation: Keep forever. Although the IRS tells you to keep these for three years, these documents contain information that could help you in the event of a divorce, lawsuit, or dispute with Social Security. 
Statements: If you held investments outside of a retirement account prior to 2012, there may be information in those old statements that will help you establish your "cost basis" for those investments. Other than that, it's generally ok to just keep the most recent statement for each account you hold. If you decide to keep them longer, just make sure to make notes of when you close an account or make a large withdrawal, so that you won't leave your family scrambling to put together the pieces later.
Account opening documents: Keep as long as the account is open. These documents tell you what you signed up for and may be helpful to reference during the life of the account. This is particularly important for insurance policies.
Everything else: With other documents, ask yourself "how could this help me in the future?". Many documents are meant for you to review and then shred. If you're in doubt about what a document means or whether you could be asked to produce it again in the future, please reach out to us!
Best of luck as you go forth and declutter!